Development Pathways
Core and Development Classes
Following the structure of many other sports, we use the model of CORE, Development, and High Performance Pathways.
All members are welcome in the CORE classes (and new starters should always start in the CORE classes) and these should be your main focus for testing and moving through the belt system. However, to progress your interest in Taekwondo you can try some of our structured pathway classes.
Members of Dorset Taekwondo are encouraged to try one or more of the Development Pathways after they have been training in the CORE classes for approximately 9-12 months.
CORE classes cover all aspects of Taekwondo and are suitable for all grades from beginner to Master who want to enjoy fun structured lessons and work through the Belt system.
DEVELOPMENT classes are specialist classes with particular themes working towards competition and team goals.
Pathway Classes are Split into 3 Specialisms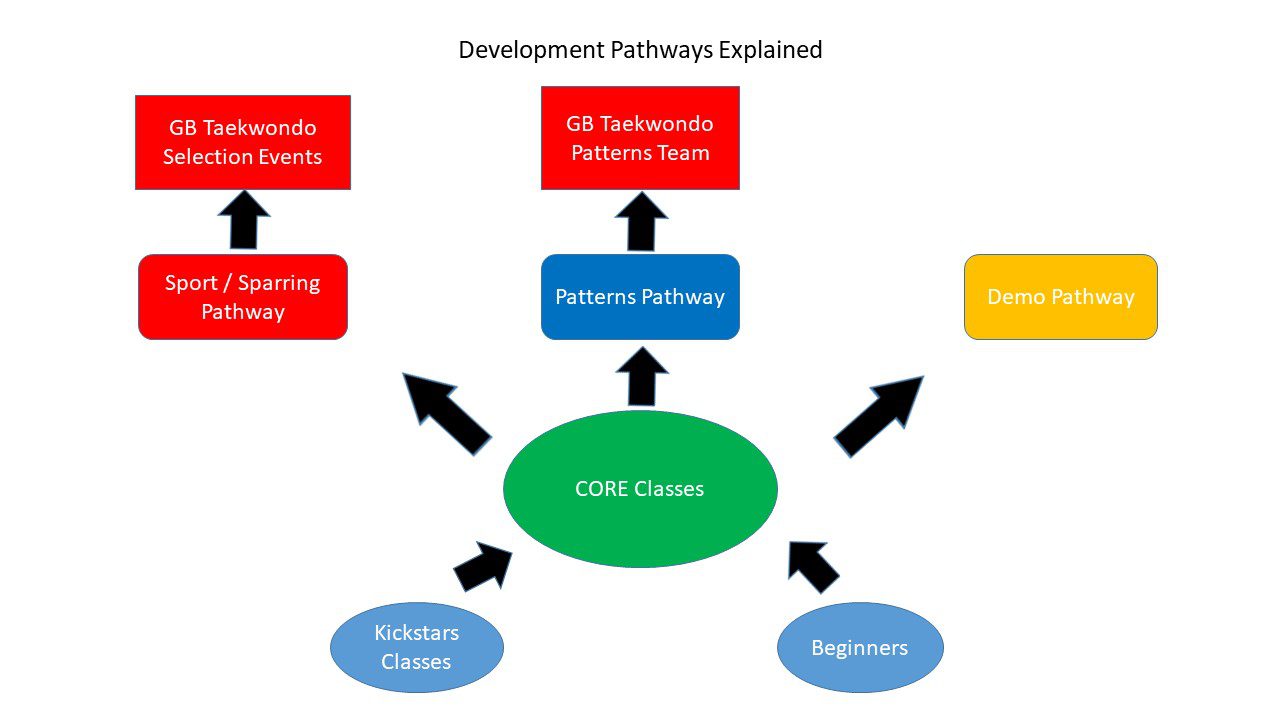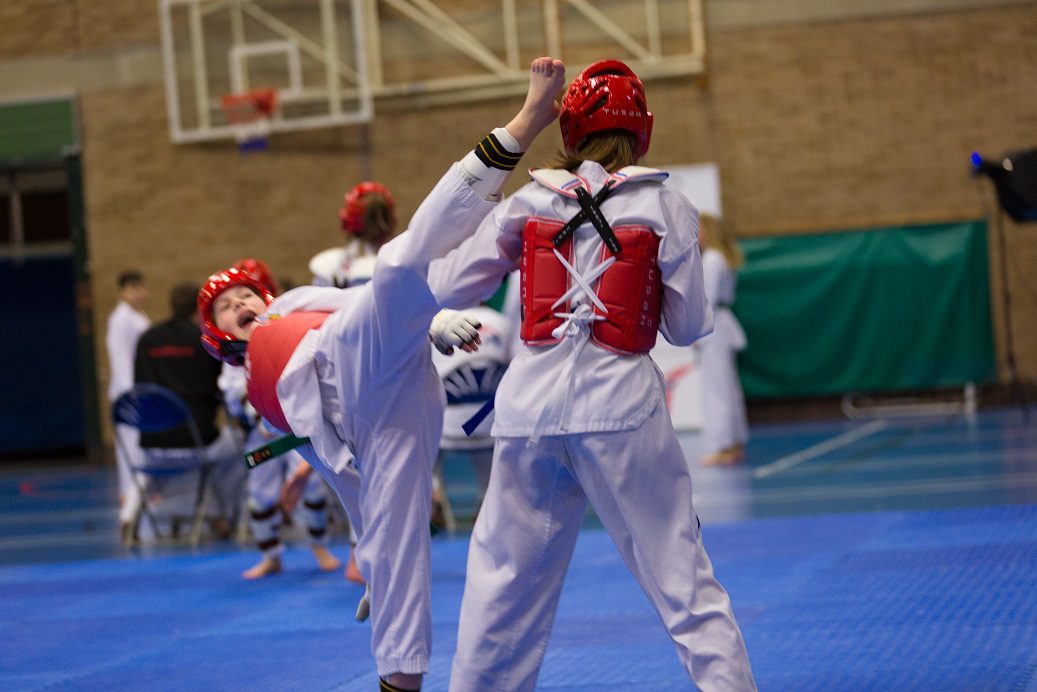 Sport Development Pathway
This Pathway is for those wishing to learn how to improve their Olympic Rules Competition Sparring. Many of the Participants train towards competition, but those just wanting to improve their sparring are welcome to attend.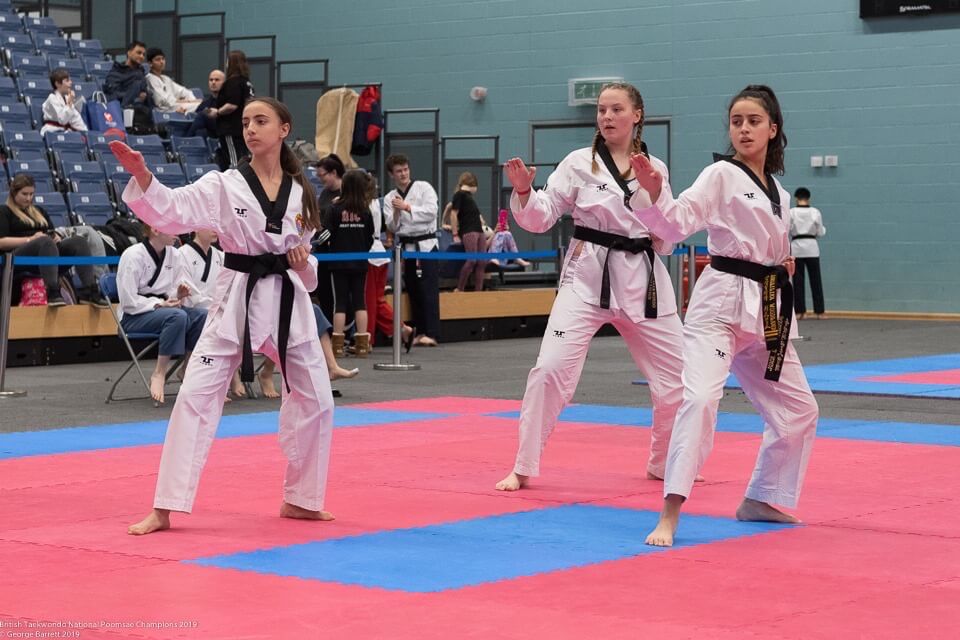 Patterns (Poomsae) Development Pathway
These classes focus on Improving Patterns / Poomsae. Many of the club members compete in Poomsae Competition and since 2018 we have had members in the GB Squad competing Nationally and Internationally. All are welcome to attend, even if you are just looking to improve for your next grading. The class involves practicing the high level (Black Belt) Poomsae, and some of the dynamic fun elements involved in Freestyle Poomsae.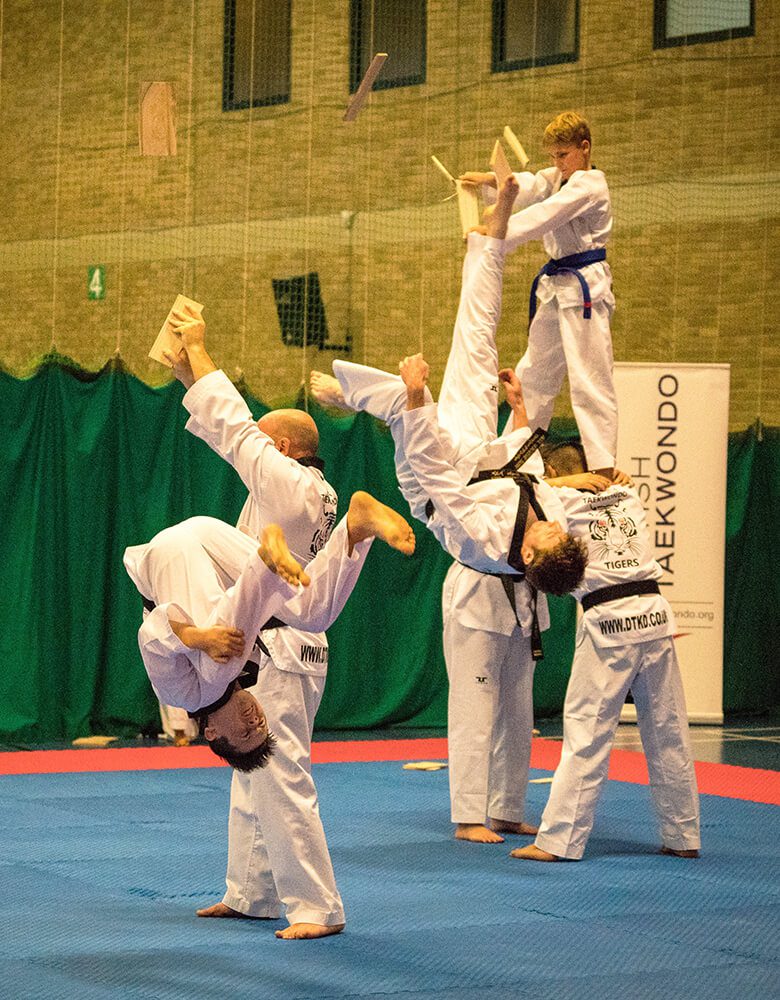 Demo Development Pathway
These Pathway classes are Home of our Demonstration Team, the "Dorset Taekwondo Tigers". Currently (November 2021) we are looking to recruit a coach to head up these demo team – we are looking to restart summer 2022. The team perform Choreographed routines to music involving a combination of fight scenes, gymnastics, flipping and board breaking.
The team perform at numerous community events ranging from School Fetes to Bournemouth Fireworks with an audience of several 100.